In loving memory of my father H.D. Hildreth
June 28,1925 - June 19, 2005


Medicine Lodge Valley, Dillon, Montana
" In order to train horses, a rider must have complete understanding of the subject. the horse must understand and accept any demand made by man without any resistance. Reward the horse each time he does what is asked of him. Never ask for more than he is capable of giving. Make him a companion, and not a slave, then you will see what a true friend he is."
-Nuno Oliveira

Thank you for coming to the DbarH site for help with your horse and riding. Training that applies to every breed and discipline. Whether you ride Western or English. There are many articles to read and learn about.
DbarH website going strong for
11 years
Helping horses and riders
~~~~~~~~~~~~~~~~~~~
Horses pictured though out this website from the Holsteiner sires of
Sunset Ridge Farms
Home of
Conquistador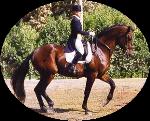 #1
Leading sire of dressage sporthorses at all levels in the United States.
(Sport Horse Owners and Breeders Association 1999)
First American Bred Stallion to break into the top 20 and went right to #1.
~~~~~~~~~~~~~~~~~~~
| | |
| --- | --- |
| | |
| Training Approach Articles | |



E-mail: grt3111@montana.com
© Donna Hildreth 1998 - 2009
DbarH Logo designed by Horsedesigns.