Medicine Lodge Valley, Dillon, Montana
Presenting
Chandler
AKA Coolhand
page 2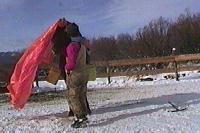 After I am through with "petting" with the manure fork and ready to take off the tarp I take it off over his head. He does not panic.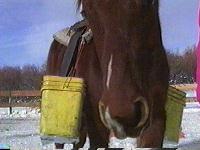 Why not check out the camera guy ( my dad) . That camera might be yummy. If that isn't good, he is sure that there is a treat somewhere on the camera guy.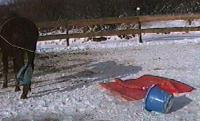 After the break with the camera guy we return to "work". This time I attach a feed bucket with a pair of driving reins attached to the saddle. No big deal with it following behind Chandler.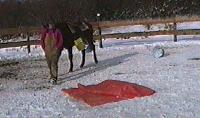 More walking with the bucket behind him. Side note: This is the first time that Chandler has had the bucket behind him and dragging it.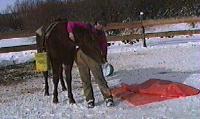 Another treat for being a good boy with the bucket.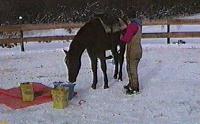 Work is all done. Taking all the accessories off while Chandler sniffs what he had drug around the pen.

Continue to the next page of this installment -page 3

| | |
| --- | --- |
| | |
| Training Approach Articles | |
© Donna Hildreth 1998 - 2009
DbarH Logo designed by Horsedesigns.